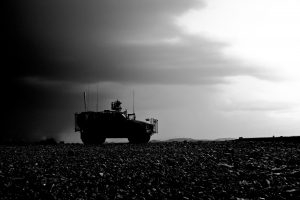 Did the U.S. really create ISIS? How? 

Every time, every period and every century had some specific and horrifying phenomenon that stood as a reminder for whole humanity and served as a society marker. For this century, unfortunately, that phenomenon is terrorism. We are witnessing the growth and expansion of terrorism in the entire world. Maybe is paradoxical situation that in the XXI century we have the expansion of misinterpretation of religion as an excuse for horrific crimes. Of course, every reason and occasion have its consequence and we must be able to be objective about Terrorism and the expansion of religion fanaticism.

People are animals and it's in their nature to cause wars, global upset and if we take a closer look we can clearly see those constant true centuries back. Unfortunately, we are witnesses of people's capacity for destruction and demolition. Maybe we didn't really evolve so much as we think. Well, as I said, it's a sad fact that humans have so much capacity for destruction and how power can change people. If we consider one old saying "the man is another man's wolf", we come to the conclusion that the saying is very much true. The man, through the history, had the tendency to conquer and oppress the weaker ones and we can see that we have so much in common with our ancestors. Yes, it's a sad fact. We haven't evolved that much, maybe we haven't evolved at all, and all the rights we have managed to accomplish and to gain are purely semantic, they are all on paper.

I came to the conclusion that we have nothing to offer to the world as species. We simply have an appetite for destruction. It's irrelevant what the cause is. The result is the same. So let's get back to our story. In this century, unfortunately, we are faced with the phenomenon of terrorism. That is just horrible. This century came upon us a threat in the form of terrorism. All of these things now have question marks on them. That is the usual scenario when something like this occurs in the world. Terrorism nowadays evolved. For the first time since the beginning of this globalized treat, we have a newly born "state" and that state is standing between terrorism and radically misinterpretation of religion and fanaticism. All of that gave birth to globalized terrorism. Of course, I am talking about humanity's biggest fear these days. It's the ISIS.

ISIS is the most radical, oppressive and horrible regime in the world. It's the backbone of misusing the religion in order to produce chaos and panic worldwide. The ISIS as a state had a lucky set of global political displacement (conflict in Syria, civil war, Middle Eastern crises and newly born old rivalry between the old nemesis, USA and Russia and so on)(Sawyer, 2015). In fact, by my opinion, the main reason for the creation of this excuse for one horrifying state and spreading the fear is the conflict between Russia and USA. Their conflict and different standpoint in resolving this issue gave a devastating impact and the worst possible outcome. This creation of the radically intolerable, and rigid "state" has millions of followers from all around the world. The ISIS is certainly a global threat to whole humanity and what struck me the most is the passive stand that has been taken from the world powers(Chengu, 2014).

In the first place, I am thinking of the USA and their standpoint on this issue. All opposite from their pretty much aggressive politics regarding the fight against terrorism in the past two decades they are now , like a small child when mommy don't give them the toy they wanted so they are acting totality passively. That is because now Russia has the arguments that the USA was violating the international civil law in the past years and that its all regarding their own fights fight against terrorism in Iraq, Afghanistan, and Libya. The other thing is the fact that the fallen giant managed to get back on its feet.

Yes, today Russia is a world power again and their personal conflict gave the opportunity to ISIS to rise. I blame Russia for acting on their own regarding the question of Syria in one hand but the biggest blame is on the USA. They were the pro-military invasion. When Russia stopped that they said "OK, we will now stand aside and watch you how you will resolve this issue", the consequences of that way of resolving issues are devastating. The other thing is very cynical and hypocritical foreign politics the USA is leading (Adl-Tabatabai, 2016). They are "looking through the fingers" for one Saudi Arabia, probably the most rigidly regime in the entire world and main financier of the terrorism. Saudi Arabia finances almost every major terrorist attack in the world and different terrorist cells (including ISIS) but the USA didn't find that is necessary to take legal or military action against them. Money talks.

So, in retrospective, I do believe that USA was one of the factors in the creation of ISIS. But, if we take into consideration the conflict between Russia and USA today that is maybe the collateral damage. But the thing that is the biggest cause for worry is their attitude regarding ISIS, they cannot stay impartial and stand aside at the same time when Russia took military action against ISIS and declared war against this "modern plague". They must help and set aside their differences in order to restore the peace that has been lost for the sake of the entire world and the future of humanity.

Works Cited

Chengu, G. (2014). America Created Al-Qaeda and the ISIS Terror Group. Global Research. Retrieved from http://www.globalresearch.ca/america-created-al-qaeda-and-the-isis-terror-group/5402881

Adl-Tabatabai, S. (2016). Hillary Clinton Admits ISIS Was Created By U.S. Government. Yournewswire. Retrieved from http://yournewswire.com/hillary-clinton-admits-isis-was-created-by-u-s-government/

Sawyer, M. (2015). In Just Under 4 Minutes, CBS News Anchor Explains How and Why the US Created ISIS. Thefreethoughtproject. Retrieved from http://thefreethoughtproject.com/4-minutes-cbs-news-anchor-explains-created-isis/

Freeman, M. (2016). ISIS is a US-Israeli Creation. Top Ten "Indications". Strategic Culture. Retrieved from http://www.strategic-culture.org/news/2016/04/09/isis-is-us-israeli-creation-top-ten-indications.html
Some essay topics are more difficult than others, and when you don't have a choice this can be particularly annoying. The good news is that now you don't have to suffer over your ISIS essay – check out this sample created by our talented and experienced writers to get inspired and write a paper of your own. It's a proven fact that education with examples is way more effective than plain theory, and that is why we are happy to provide you with this free ISIS essay to learn from. Look through other samples and articles with writing advice at our blog, and creating a good essay won't be a problem for you anymore.